Welcome To Life Made Easy!!
The Life Made Easy Company is at your service to make gift-giving EASIER for all of life's special occasions! Take a look at our gift basket line-up or ask about a customized option! We ship to all destinations across the continental USA! We also specialize in Cincinnati Gift Baskets and Cincinnati-themed gifts 365 days a year! You can also inquire via e-mail to get a fantastic, customized creation designed per your tastes and needs!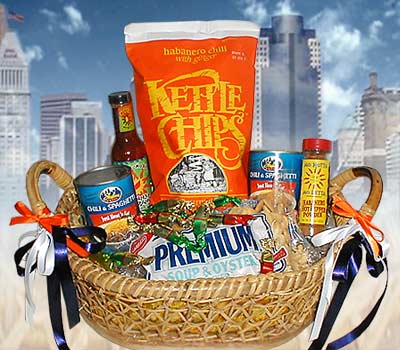 HAPPY HOLIDAYS & HAPPY NEW YEARS 2018!!!
FROM THE LIFE MADE COMPANY!!
Ask Us About Creating A Custom Basket For The Holidays TODAY!!!!
CALL: 888-507-0555 or EMAIL: sales@LifeMadeEasy.org
Our Health baskets include premium quality foods, we offer health oils, gourmet foods, candies, chocolates, aroma and fragrance products, soaps, scrubs, lotions, candles, and also decorative and usable gift items are selected especially for your Custom Gift Basket.
If your gift recipient is homesick for Cincinnati, Ohio Specialties--like Skyline Chili, or if you would like to send a sampling of Cincinnati, Ohio to a friend or relative, we search out the very best. Our popular Soooo Cincinnati Basket might be just what the doctor ordered! We tailor Gift Baskets to your specifications for any Holiday--even regional holidays like Sweetest Day, Birthday or a Special Occasion!
At Life Made Easy, we are creative. Our Baby Gift Baskets even include gifts for the New Mom, and when it's time to Kick Back and Relax, we'll provide everything you need from Soothing Beverage to Scrubbing Loofah. We also specialize in Health Baskets for health conscience individuals! Our Aroma Therapy Basket is perfect for helping to purify mind and body. Also designed to boost energy and encourage good health, our Health Galore Basket is a sure pleaser. Try our Pet Gift Baskets which will excite pet owners with an abundance of snacks, treats and toys for their new friend! Our Wedding, bachelor, bachelorette and anniversary baskets will delight honeymooners of all ages!
Our Corporate Gift Baskets can be customized as Corporate Gifts for an Honored Employee or for Special Clients. The Life Made Easy Company can include your supplied company promotional items or even an award plaque into your Custom Corporate Gift Basket. Honor your top sales producers, retirees, or welcome new clients with our wonderful Corporate Gift Baskets.
About Our Service
Your Life Made Easy Co. order gets prompt attention as soon as it is received. Our specialty staff selects premium food or gift products, then we incorporate the gift items into a Custom Design Basket or even a Gift Basket Extravaganza. Each Gift Basket is then professionally packed and shipped to ensure safe arrival. Rush order service is available for your Gift Basket.
The Life Made Easy Company is conveniently located in Cincinnati, Ohio in the USA. All major methods of shipping are available, and your order can be paid for by credit card. We use Paypal for credit card transactions.
We Honor Our Customers
At Life Made Easy, we take pride in our High Standards of Service. We are dedicated to providing Our Customers with high quality products for Reasonable Prices. We back all of our orders with a Satisfaction Guarantee. We respect your privacy and do not offer our mailing lists to outside parties.
We hope you enjoy you visit to the Life Made Easy Website. Check back often for new products and features. Feel free to leisurely browse our Gift Baskets, tour our Personal Gifts or simply get a cup of tea and relax with some verse on our Poetry Page. Be assured we'll be working hard to Make Life Easier for You!
Check us out on Youtube and Twitter!!
Each of Our Gift Baskets Is Customized
For Your Special Occasion or Special Someone!
Local Specialties!
Looking for Skyline Chili? We've got it right here in Cincinnati!
Skyline Chili Baskets!
Graeter's Cookies & Ice cream Esther Price Chocolate Frisch's Tartar Sauce
Larosa's Sauce Grippo's Potato Chips
Montgomery Inn BBQ Potato Chips and BBQ Sauce
For Sports Fans!
Cincinnati Bengals and Cincinnati Reds Fans will love our goodies!
Sports Gift Baskets! Cincinnati Gift Baskets!
Corporate Gift Baskets
Corporate Gifts Employee Gifts Employee Recognition Retirement
Holiday Baskets
Christmas New Year's Valentine's Day St. Patrick's Day
Easter Mother's Day Father's Day Patriotic Halloween
Thanksgiving Chanukah Kwanza Sweetest Day
Gift Baskets For Occasion Giving!
Wedding Baskets Bridal Baskets Groom's Baskets Anniversary Baskets
Birthday Baskets New Baby Baskets Graduation Baskets
Anytime Gift Baskets!
Health Food Lovers Chocolate Lovers Go Italian Style! Nut Lovers
Sweet Tooth Baskets Coffee Lovers Tea For Two Gourmet Food Lovers
Candle Lovers The Sensual Bath Job Promotion
Back To School Good Grades New Home Bon Voyage!